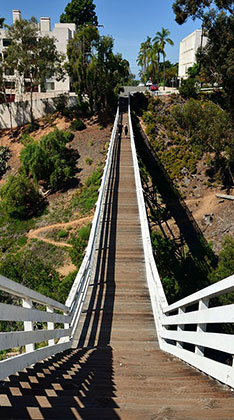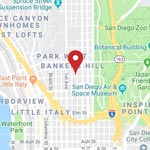 Banker's Hill is a unique barometer of history among the grids of Downtown San Diego. This area boasts wooden footbridges across the canyon where the San Diego Cable Car railway once bustled, and is one of the most affluent areas in the district.
This area is best observed by walking through the suspension bridges that connect bordering neighborhoods and parks. Visitors and residents alike, appreciate the architectural canvas of modern and historically preserved simplicity.
As it graces a border of Balboa Park and the upward infrastructure of the urban cityscape, it also boasts gorgeous views of the San Diego Bay and nautical Point Loma accents. While exploring, some of the best places to dine include the signature Mister A's, CUCINA Urbana, and Bankers Hill restaurants.
For entertainment, many join the walkabout tours to see the historic architecture that nods to Edward Capp's engineering genius, who was also the city's elected Mayor twice over, and the chief city port engineer for the harbor.
Reference Articles:
Bankers Hill: Historic and modern meet in affluent community, complete with footbridges @ San Diego Tribune
Bankers Hill studded with local history @ San Diego Reader
Bankers Hill's hidden treasure @ San Diego Uptown News